---

• There was a ball-bearing plant located 10 miles southwest of Hammelburg. (episode #131, "Is There a Traitor in the House?" 1969)
• Mount Hoffenstein Pass is located "just outside Hammelburg". This fictitious mountain is very large. A sneeze from Colonel Klink caused an avalanche. (episode #167, "Look at the Pretty Snowflakes" 1971)
• The Hofbräu, Hammelburg's local tavern, was located very close to Mount Hoffenstein. (episode #167, "Look at the Pretty Snowflakes" 1971)
• The Hofbräu was closed on Mondays. (episode #167, "Look at the Pretty Snowflakes" 1971)
• There was dancing every night at the Hofbräu. One of the featured bands to perform there was 'Bertha Baumgarten and her All-Girl Orchestra'. Among the instruments that Bertha Baumgarten and her All-Girl Orchestra played were: trumpet, drums, bass and piano. (episode #167, "Look at the Pretty Snowflakes" 1971)
• Flensheim Road was located "approximately 3 miles SE of Hammelburg". (episode #167, "Look at the Pretty Snowflakes" 1971)
• Colonel Klink stated in episode #16, "Anchors Aweigh, Men of Stalag 13" (1965) that Stalag 13 was located 60 miles from the North Sea.
• It was stated in episode #27, "The Safecracker Suite" (1965) that the nearest big city to Hammelburg was Dusseldorf. This was also stated in another episode.
• In the town of Hammelburg was a bank called The Brinksmeyer Bank. It was owned by Heir Brinksmeyer. The assets at the bank were 12 million marks. All secretaries and tellers were armed. There was a police station across the street. The guard in the balcony was armed with a machine gun. The Brinksmeyer Bank gave out free calendars at Christmas, featuring a different picture of the Führer. (episode #50, "The Great Brinksmeyer Robbery" 1967)
• There was an auto factory located 1 mile from Hammelburg. It was transformed into a war plant which produced cannons. The factory was run by Hans Speer.
• In episode #80, "Is There a Doctor in the House?" (1968), the Hofbräu was called Gretchen Adler's Hofbräu. In episode #13, "Hogan's Hofbräu" (1965), the Hofbräu was called Hilda's Hofbräu.
• There was a zoo located in Hammelburg called The Hammelburg Zoo. Located next to the zoo was a ball bearing plant. (episode #91, "Monkey Business" 1968)
• The town of Flensheim was in a 12 mile radius of Hammelburg. (episode #132, "At Last–Schultz Knows Something" 1969)
• The Burgermeister of Hammelburg was a 72 year old man with eyesight in one eye only. (episode #106, "Man in a Box" 1968)
• Other businesses located in Hammelburg were: The Ratskeller and The Hauser Hof.
• The town of Schmeckhausen was located about 15 miles from Stalag 13. According to Fraulein Helga, "There's nothing in Schmeckhausen". (episode #17, "Happy Birthday Adolf" 1965)

Below is a map of the southwestern section of Germany. You will note that the town of Hammelburg is circled in red.
(Stalag 13 was located 'near Hammelburg'...but not this one!)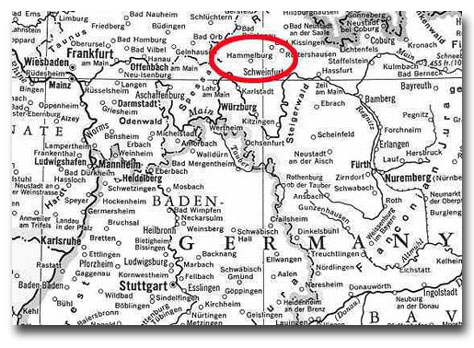 The following was provided by a Hofbräu visitor...
• Stalag XIIIB was located 3 miles south of Hammelburg and 20 miles west of the Schweinfurt ball bearing factory. There were two compounds: one for 3000 Yugoslavian soldiers, the other for British and US officers. Most of the Americans held in the camp surrendered during the Battle of the Bulge. Among the prisoners was Gen. George patton's son-in-law. The camp was a hole that received few Red Cross parcels and little food. Prisoners were reduced to eating cats. Morale was poor.
John Toland, The Last 100 Days, Random House,1965, p. 288-302
---

• "G-" is the second to the lowest grade a P.O.W. camp can receive from the Inspector General. (episode #60, "Colonel Klink's Secret Weapon" 1967)
• "EE++" is the best grade the Inspector General can give a P.O.W. camp. (episode #60, "Colonel Klink's Secret Weapon" 1967)
• According to regulation, during roll-call, from the sound of the whistle to complete formation, it should take 48 seconds. (episode #60, "Colonel Klink's Secret Weapon" 1967)
• The bunks in the barracks must be 27 inches apart. (episode #60, "Colonel Klink's Secret Weapon" 1967)
• According to Article 15, Paragraph 6, sergeants are not allowed to joke with prisoners of war. (episode #60, "Colonel Klink's Secret Weapon" 1967)
• There are 20 barracks at Stalag 13. There are tunnels connecting to all except for barracks 4. (episode #76, "Everybody Loves a Snowman" 1967)
• It was stated that Hogan has a branch tunnel leading to barracks 9.
• Hogan's heroes were held in barracks 2 at Stalag 13. (episode #97, "To the Gestapo with Love" 1968)
• Lights are to be shut out in the barracks by 9:00 PM. (episode #108, "Who Stole My Copy Of Mein Kampf?" 1969)
• In episode #114, "The Purchasing Plan" (1969), the Heroes had to store ammunition in their underground tunnel before delivering it to different locations. Newkirk climbs down into the tunnel with a cigarette in his mouth. Colonel Hogan grabs the cigarette from Newkirk's mouth, throws it to the ground and angrily says "the next one to light a cigarette down here gets a court martial." If the conditions in the tunnel are so volatile with the ammunition, why do they have several torches blazing on the wall???
• The 'heroes' are able to work on vehicles in the motorpool because General Burkhalter has transferred the entire maintenance crew of Stalag 13 to bomber service. (episode #143, "Crittendon's Commandos" 1970)
• During the early years of Hogan's Heroes, the heroes' radio code name was 'Goldilocks', the submarine they always called was 'Mama Bear', and England was 'Papa Bear'. Later on, Hogan became 'Papa Bear' and their underground contact in London was 'Goldilocks'.
• A common gag in Hogan's Heroes was Colonel Klink (or anyone else) yelling FIRE! and then being drenched with water.
• There were a total of 14 men in Hogan's barracks.
• Stalag 13 did not have plumber. Corporal Schneider, a guard at the stalag, served as plumber until his transfer to the Russian Front. (episode #70, "Nights in Shining Armor" 1967)
• Listening post number 3 was located in the safe of Colonel Klink's office. (episode #14, "Oil for the Lamps of Hogan" 1965)
• LeBeau grew mushrooms under the recreation hall. (episode #14, "Oil for the Lamps of Hogan" 1965)
• There was a picture of Colonel Klink on the will of the de-lousing station at Stalag 13. (episode #14, "Oil for the Lamps of Hogan" 1965)
Here are the names of other personnel that were stationed at Stalag 13. They were only mentioned by name and never shown.
Corporal Waiver - Communications (episode #154, "It's Dynamite" 1970)
Sergeant Schmidt - His uncle was an officer in the Gestapo. (episode #154, "It's Dynamite" 1970)
Wolfgang, Heidi, Hans and Gerta - Guard dogs. (episode #87, "LeBeau and the Little Old Lady" 1968)
Corporal Mueller (episode #154, "It's Dynamite" 1970)
Sgt. Engle
Sgt. Richter also known as "Old Ironside" - Arsenal guard.
Corporal Schneider - Served as Stalag 13's plumber. He was set to the Russian Front. (episode #70, "Nights in Shining Armor" 1967) Corporal Schneider was also married.
---

• At Stalag 9, there is a guard by the name of Kandinski. His nickname was "Killer". (episode #136, "The Softer They Fall" 1970)
• The Kommandant of Stalag 9 was Colonel Schmeckler. (episode #15, "Reservations Are Required" 1965)
• Major Mileing was Kommandant of Stalag 8. (episode #60, "Colonel Klink's Secret Weapon" 1967)
• Colonel Feldkamp was the Kommandant of Stalag 5. He was transferred to the Russian Front because he received two (2) G- ratings from the Inspector General. (episode #60, "Colonel Klink's Secret Weapon" 1967)
• "Berlin Betty" was broadcast every night to England on radio just after the cricket scores. (episode #131, "Is There a Traitor in the House?" 1969)
• The scene of Larry Hovis (Sgt. Carter) mixing chemicals during the opening credits of Hogan's Heroes comes from episode #7, "German Bridge is Falling Down" (1965)
• Corporal LeBeau wore a blue sweater and cap in the first 2 episodes instead of his normal red ones.
• Episode #17, "Happy Birthday Adolf" (1965) took place on April 20, and a few days before. (April 20 was Hitler's actual birthday)
• During the closing credits of the first 12 episodes, Werner Klemperer and John Banner had their names on the screen together. Starting with episode #13, "Hogan's Hofbrau" (1965), each of their names appeared by itself on a separate screen.
The following information was provided a Hofbräu visitor...
Major Hochstetter's uniform was not appropriate for the period. The SS of which the Gestapo was a part of had abandoned the black uniform and switched to field gray at the onset of the war. This was probably an economy measure as well as practical one as the black uniform was a bit more visible in hostile fire situations as opposed to field gray. The Germans were plagued with problems with producing clothing for their troops throughout the war and in some cases had to resort to uniform supplies produced by their allies such as the Italians or Rumanians. After 1939, the only instances where the pre-war black SS uniform might have been seen was on "honorary" members of the SS who were given SS rank mostly for their political and financial support of the Nazi party.
Hochstetter's auto number plate is entirely inappropriate as it is prefixed with "WH" which means "Wehrmacht Heeres" and as such would be apply to vehicles assigned to the army. Vehicles assigned to the SS were prefixed "SS," (in runic form) but then again the oft-seen "camp" truck that Hogan often drove was a right-hand drive Morris built truck supplied to the British during the war.
The website http://www.geocities.com/Hollywood/Academy/4760/ posted the lyrics to the Hogan's Heroes theme song. For other television show theme song information, check out the site.
Hogan's Heroes March (by Jerry Fielding)
Heroes, heroes, husky men of war,
Sons of all the heroes, of the war before.
We're all heroes up to our ear o's
You ask questions
We make suggestions
That's what we're heroes for.

All good heroes love a good, big fight
Open up the bomb bays and brighten up the night.
We applaud the people who laud us,
You pull the roses,
We punch the noses,
That's what we're heroes for.

What's a hero do?
Well, we're not gonna tell ya
Cause we wish we knew.
That's why we heroes are so few.
We've got a slogan
From Colonel Hogan
And Colonel Hogan's a hero too.

Never flinch, boys, never be afraid,
Heroes are not born, boys, heroes are made.
Ask not why, boys, never say die, boys,
Answer the call, remember we'll all be heroes forever more.

To hear a 30 second sample of the Hogan's Heroes March, sung by Robert Clary, Larry Hovis, Richard Dawson and Ivan Dixon, click here.
You will need the latest copy of Real Player to enjoy this. Download it here...

• Hogan's Heroes is featured in the latest Federal Express commercial.
---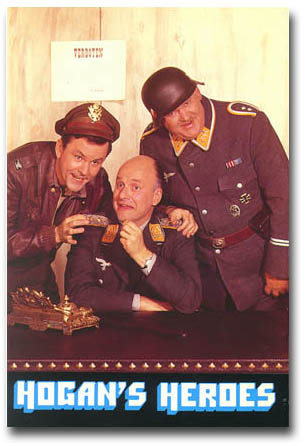 A Hogan's Heroes postcard