Welcome to The Hofbräu.
At nearly 60 pages long, we are one of the largest and most comprehensive websites available on the internet dedicated to the 1960's TV series Hogan's Heroes. We are proud to have been contacted by CBS News and a spouse of one of the actors of Hogan's Heroes.
Inside The Hofbräu, you will find information on the medals, decorations and insignia worn by the characters on the show. Also included are several extensive pages of trivia about each of the cast members, a page detailing the various guest stars that have appeared as well as the characters they portrayed, an episode list, and miscellaneous information including an interesting parody which was featured in a 1966 Mad Magazine.
---
To help you keep track of when The Hofbräu has been updated, be sure to visit the What's New @ the Hofbräu page. There you can quickly find out which pages have been updated.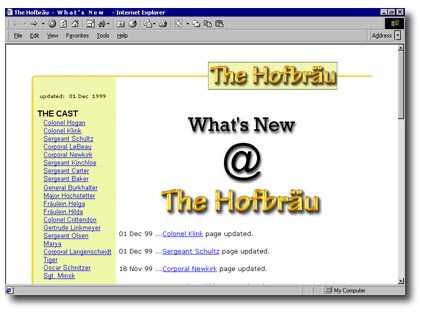 We invite your comments, questions and suggestions. Please email us
TheHofbrau@yahoo.com
Thanks for visiting and enjoy your stay.

---